Project Feeder Watch is a fun way to watch birds. It is a science project during te winter wich looks at birds and their winter habits. Anyone can join!
Who Can Join,and the Cost?
Edit
Ayone can join, from 3 years old to 199 years old, a single person or 50 people! It does not matter where you are, The Rocky Mountains, The Great Lakes, Along The Pacific and Atlantic Ocean, or evn in the Great White North, thery remember you.
Unfortunately, there is a price. It ranges from $12 to $2 500.

The cheapest is a Stduent Membership, and the most expencive is a Patron Membership
Student.......$25 *Students must be enrolled full-time at an educational institution.

Individual....$35

Household.....$50 ** Could also be called Couple Package

Contibuting...$100
Sustaining....$175
Life..........$1 000 ***Life fees include all membership benefits for life with no need to renew.
Patron........$2 500 ***Patron fees include all membership benefits for life with no need to renew.
The price includes a poster of the most common feeder birds in your area, a calander, an instruction booklet, a hand guide and a choice of magazines and newsletters.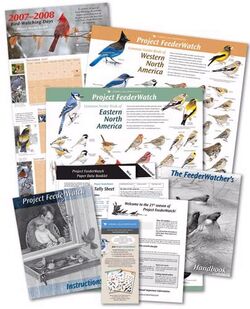 Were Does One Count Birds?
Edit
One will count birds in one's yard. It would help greatly if one has a bigger feeding station.
The Project Feeder Watch season stars on November 8th and ends on April 3rd.
What is the Point?
Edit
The data that we collect helps scientist determine the behavoir and ranges of the birds in your area.
It also helps scientits tell if a species is at risk. The data varies from year to year. If one year, The House Finch population visits 87% of feeders, and the next year it only visits 56% of feeders, it is estimated that the House Finch is now declining.
Project Feeder Watch started in Ontario in the 1970s by the Long Point Bird Observatory ( later to become Bird Studies Canada). Eventually they joined with Cornell Lab of Ornithology. uring the first season that they joined with Cornell Lab of Ornithology, more than 4 000 bird feeders joined. Project Feeder Watch was nowhappining in every state, but Hawaii, and most of the Provencies. Now it is sucssesfully operating it's 21 season, in 2008.